Prince of Wales, Farnborough wins prestigious CAMRA Golden Award
Wednesday 28 July 2021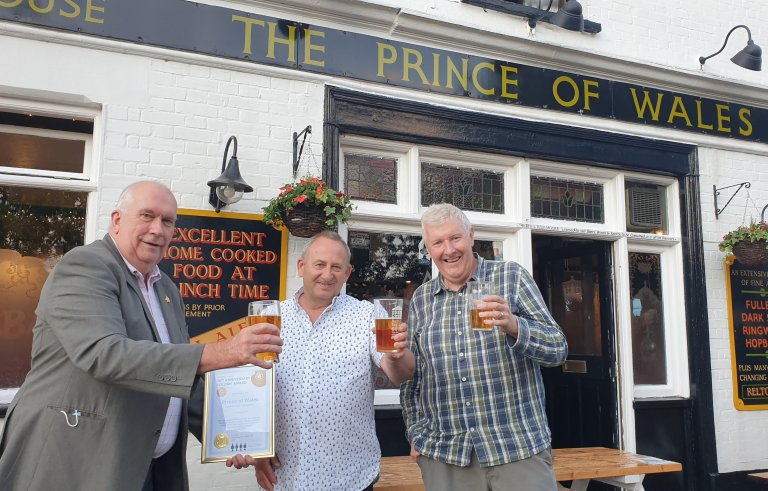 .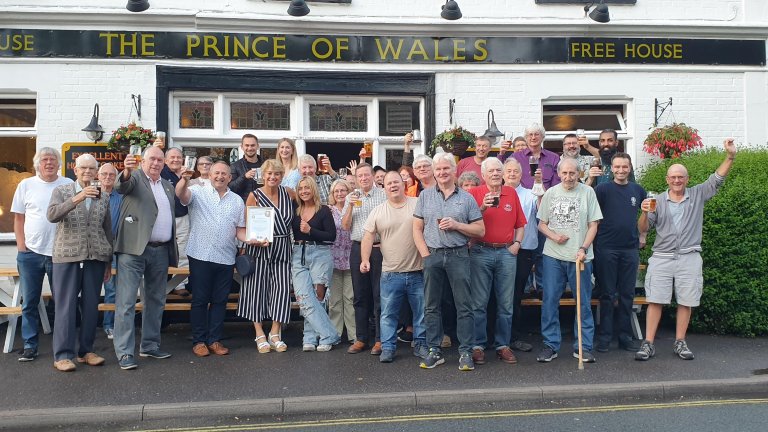 .
The Prince of Wales, Farnborough is one of just 32 pubs across the whole country to receive an award from CAMRA, the Campaign for Real Ale, as part of their celebrations marking 50 years of campaigning.
On 28th July 2021 Surrey Hants Borders Branch Chairman, Ian Johnson, presented owner Peter Moore and landlady Cheryl Hinde, with a certificate in recognition of the achievement.
The award was part of CAMRA's anniversary celebrations throughout 2021, recognising people and pubs that have made a significant contribution to CAMRA's aims, helping us get to where we are today. Nominations for the Golden Awards were made by CAMRA members and locals. Over 240 pubs were submitted, which were then whittled down to 32 awardees.
Surrey Hants Borders Branch Chairman, Ian Johnson said: "I am delighted to be honouring the Prince of Wales, Farnborough, today with a CAMRA Golden Award. 2021 is our 50th anniversary year, and we want to take this opportunity to celebrate the successes of the Prince as well as CAMRA's achievements – we wouldn't have got far without their support!"
"This anniversary comes on the heels of an incredibly difficult time for the industry after a year of lockdowns and restrictions. I hope Peter, Cheryl and all their staff will take this award as appreciation for all the hard work involved in running the pub, over the decades and especially now"
Previous owner of the Prince of Wales, John Medhurst recalls "In 1981, my company Memory Inns, purchased this old rundown back street pub from Allied Breweries.  We spent around £10,000 over 15 days refurbishing the Prince of Wales and installed a bank of 6 handpumps so we could serve real ale from regional breweries which were not available in the area at that time and the rest is history."
Peter Moore and his wife Julie have been running the Prince of Wales for nearly 40 years, first as manager in 1983 before buying the freehold from Memory Inns in 2002. He says "All of us at the Prince of Wales are absolutely delighted to have been awarded a CAMRA Gold Award.  My heartfelt thanks go to Cheryl and all my wonderful staff and our fantastic customers for their loyalty and good humour on returning after lockdown.  Thanks also to John Medhurst, who had the foresight to buy the pub back in the 80s and allow me the opportunity to develop a community pub to which everyone in Farnborough is welcome."
As a free house the pub has an enviable reputation with beer-lovers, both near and far. It is a cosy pub, with a central bar around which are several distinct, but interconnected areas, with a wonderful wood-burning stove between the snug and seating area.
First and foremost the pub is about real ale, which has resulted in it being ever present in CAMRA's Good Beer Guide since 1983. There are usually five guest beers, including some dark and/or local beers alongside the five regulars, together with a box or two of real cider.
The annual beer festival in October is hugely popular, generally concentrating on a particular area of the country's beers.
The Prince was chosen for its successes in standing the test of time; for being convivial, characterful and community-focused, and of course for consistently pouring great pints.